The story begins at the corner of the Piazza Venezia in Rome in 1925, where there was a small Fendi boutique and, next door to it, a fur and leather workshop, owned by Edoardo and Adele Fendi. By the 1930s they had expanded the business considerably. But the true protagonists of Fendi's success are their daughters-Paola (b. 1931), Anna (b. 1933), Franca (b. 1935), Carla (b. 1937), and Alda (b. 1940)-who made the Fendi label famous throughout the world.
All five daughters began working in the family business at an early age-between fifteen and eighteen-assuming different responsibilities as required. In 1964 they opened the office on the via Borgognona in Rome, with a large picture of their mother, Adele, in the entrance. In 1965 they began their collaboration with Karl Lagerfeld, the designer who, together with the Fendi sisters, helped develop a renewed interest in furs. During this time, the famous black and brown double "F," one of the first company logos, was created.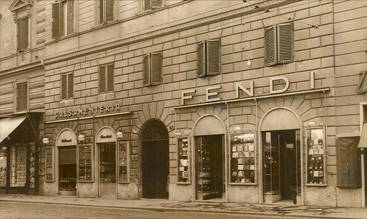 When Adele died in 1978, each of the five Fendi children took over a different part of the business: Paola was primarily interested in furs; Anna, in leather goods. Franca handled customer relations, Carla coordinated the business, and Alda was responsible for sales. In the 1980s, as was the case with many Italian fashion houses, Fendi underwent a period of considerable expansion, involving product diversification and especially licensing.
A wide range of products now bore the Fendi label-sweaters, suits, jeans, umbrellas, clocks, ceramics, and household decorations. Stores and boutiques were opened around the world. In 1985 Fendi even produced the uniforms for the Rome police department.

Today, the business still belongs to the Fendi family and the brand's future is represented by Maria Silvia Venturini Fendi, Anna Fendi's daughter, who continues designing accessories and male attire, together with the creative director Karl Lagerfeld.